The 2019 season of the World Series tournament Ethnosport Challenge began in the village of Atmanov Ugol, Tambov Region, in the Russian traditional games Atmanov Kulachki on August 24, 2019.
At the invitation of the President of the World Ethnosport Society, Dr. Alexey Kylasov, Kulachki Ethnosport Challenge 2019 was visited by UNESCO Goodwill Ambassador Alexandra Ochirova.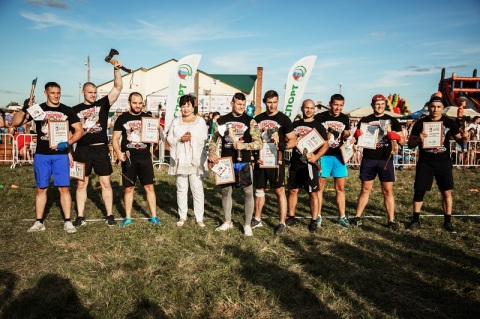 The team of Russia: Vladimir Bulgakov (Kursk), Alexander Kuzmin (Yelets), Alexey Markov (St. Petersburg), Alexey Smirnov (Nizhny Novgorod).
The team of the World Ethnosport: Ruslan Bagirov (Belarus), Vostan Gevorgyan (Armenia), Andrijus Donaldas (Lithuania), Marcin Schabowski (Poland).
In a team competition according to the formula Russia VS World Ethnosport, the Russian team won with a score of 3:1. The guests won only one Log lift exercise, in which Ruslan Bagirov (Belarus) became the best.
The winner in the individual competitions was Vladimir Bulgakov (Russia), to whom Andrey Smirnov (Russia), lost in an additional Pull-pushing exercise. They both reached the final with two victories. Andrey Smirnov (Russia) won in Weight holding and Russian traditional wrestling za-vorotok. Vladimir Bulgakov (Russia) won in Throwing a two-pound kettlebell and Heavy races of bag.
Vladimir Bulgakov won the Kulachki Ethnosport Challenge for the second time (first in 2018) and became the only two-time winner in the World Series.
The Ethnosport Challenge tournament was held as part of the Russian traditional games Atmanov Kulachki with a big wall fist fighting. In addition to fist fights, competitions are held for various competitions of Russian ethnosport – playing the Rusmyach and Lapta, stick pulling, traditional archery, as well as original fun.
The tournament was organized by World Ethnosport Society, Ethnosport Federation of Russia, Tambov Amateur Society of Local History, with the support of the Tambov Region Administration.